"To all who were so generous to let me share their personal experiences here, let me express my gratitude and sincere appreciation. Thank you for the support and friendship poured out here in your words, for all to read. Through you, and so many others I could not fit on this web page due to lack of space, I have found the guidance I need to follow my life's path, and the strength and courage to scale any obstacle with ease."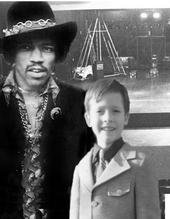 All I have to say is thank you Gail.   Gail Lionetti has helped me spiritually a couple of times before.  She had helped me though the loss of my grandparents.  Mainly, my grandmother who passed on almost 3 years ago from pancreatic cancer.  In my opinion, the information/message given to me through Gail's ability put my heart to rest.  I now know my grandparents are in a beautiful place. 

Now for the real fun,  I am a college professor and own a local music school. I have toured and played on my recordings. I have been a professional guitarist my entire life. A very successful musician. During the reading Gail did mention my spirit guide was with me.  It was no other than Jimi Hendrix!  Well, it get any better than that.  She mentioned him  standing behind me and saying I am on the right track. Woah! Hendrix had been my earliest musical influence.  In fact, I have a published guitar method book based on him!  Gail didn't know this or how I was influenced by him.  I was blown away.  Then I realized I had my business card in my wallet.  It is a photo of me as a child with Jimi (photo shopped of course). In fact, I hadn't had that card in my wallet in a week.  Before I went to see Gail that morning, a small voice said:  "Put the cards back in your wallet" I wasn't thinking why but I did.  Go figure.  Thank you Gail. Jimi keep on watching over me!  Right On!

Aaron L.   Jackson, NJ

Jeffery - Neptune, NJ
The exact measure of how you are loved by others will never be truly felt in your lifetime. You have made an indelible impression upon SO many lives, and if you just think for a moment, the amount of love constantly being sent your way, it is truly mind-boggling. Never give anyone (not even your children…) the power to pull you so far down. You have such a big heart and an immense capacity to love. Make that work FOR you. Always remember: Some of the strongest "family" ties occur OUTSIDE your bloodline. Family is where you find love, acceptance, and happiness. Sit down for a moment, if you will, and contemplate THAT. NOW….who is YOUR family??? No doubt, it is very large and full of love. I know, because I'm part of that family. And I wouldn't have it any other way.

Gail
Thank you! There was a train then mine came 5 minutes later  all good
It was a pleasure meeting you and hearing from my Mom, Grandma, my guides and your guides through you!
I am listening to our session now while I'm on the train. We covered a lot. 
I will keep smiling - thank you.
Gail - I just feel so much better and though I will grieve for my Mom I have a different perspective after our session.  Thanks for your invitation to ask you anything and I will.
Much love
Dave
Dave Ciliberto Enterprises

Dearest Gail,
What I wonderful experience I had yesterday and I want to thank you. I felt very comfortable in your presence and know that you've touched many lives in a positive way. I purchased your book and I'm anxious to take the time to savor it.  While I signed up for your next session at Diana's I was wondering if you had any suggestions that I might try to learn how to be more connected?
I tried to look up the name Helo (?spelling) and didn't find anything. Maybe my buffalo has a nickname.
Take care and once again thank you for sharing your gift with so many of us.
Sincerely,
Elida Jensen

Hello Gail,
Just thought I'd drop you a line to let you know I can validate some of the things you told me when I was a guest on Angels Among Us.  I was Guest #5 on Episode 40 on May 12, 2009.  I asked you first about my financial situation.  You mentioned that you saw me having 2 part time jobs or one full-time and one part-time job.  I was thinking about that. I did have 2 part time jobs a few years ago.  I was a Pampered Chef Kitchen Consultant and I was a Distributor for a company that sold air and water purifiers.  I did them both at the same time.  Also, you helped me communicate with my parents.  You mentioned something about having lower back pain or stomach pain.  The more I thought about it, I remembered that that's exactly what my Mom had.  She had some stomach issues and she could barely walk because of her back problems.  Another thing you asked me if I knew someone named Jack or John.  You asked if I knew he had heart problems.  I have a cousin John that we call Jack but really didn't know if he had any health problems.   About a week later, I called him to ask how his father was doing because he is ill and I happened to ask Jack how is was doing.  He told me he had had some tests done recently and that the doctor thought he might have a little problem with his heart.  He actually just had a test done on his heart but everything turned out okay.
You also told me to sit in my recliner chair with my eyes closed, my hands on my knees and my palms up.  Then I should ask either my mother or father to touch my hand.  I did it, asked my mother to squeeze my hand and after a few minutes, I felt a little pressure on my hand.  I just know it was her.  She's with me often and I can feel her presence.  You also told me that my father said he would send a "red bird" to my sister to let her know that they are both okay.  I talked to two of my sisters the next day and they both told me they had seen a red bird that day.  I told them what you had told me and they were both happy.
Gail, I just wanted to say THANK YOU to you for helping me to communicate with my parents who I miss very much.  I wanted to let you know that I could relate to the things you told me and I am very grateful.
I can't wait until you are back in September on Angels Among Us.  I'll be sure to be there to see if my parents have any other messages for me and I have a few questions I would like answered.
Have a wonderful summer, Gail.  God Bless
Carmel Schleckser

Good Morning Gail,
I just wanted to email you & thank you for a wonderful session yesterday. There were so many people who came through that I was so happy.
You also made my husband, Joe, very happy. When he heard that Al was around him it brought tears to his eyes.
In reviewing the tape with my parents & with my husband I was able to fill in some blanks.
In my reading yesterday a "Rose" kept coming through. I kept saying this was a friend of my mother-in-laws. When actually it was my mother-in-law's mother. Rose got mentioned twice. I was just wondering if she had any messages to pass along to my husband or maybe his mother.
You also mentioned something about an accident & kept referring back to the picture of myself, my husband & my son. I realized that my husband tore his ACL last year, in August. He was playing basketball & landed on it the wrong way. Was this the accident they could be referring to?
Last, you mentioned my grandmother said that when I see bees to be aware, but don't worry they won't sting any of us. I realized that my son started daycare a couple of weeks ago & his class is referred to as, "The Bumblebees." Could this be the bees that my grandmother was referring to?
Again, thank you so much for the reading you gave yesterday. It brought some closure to a very hard time I dealt with in my life. You may be hearing from my husband soon. I think he may want to do a reading. =)
Have a great day!
Kind Regards,
Allison Ammiano

Thank you so much for having the reading with me yesterday. Having connected to my grandparents and mom was such a wonderful experience and one that I've only wished about having for many years now. Last night I sat at home just watching the flickering kitchen light with comfort.

I've still struggled to come up with many questions. In hindsight though, I should have perhaps opened up a little more. As much as I believe, there was still that internal fine line of not wanting to say too much without just being told as validation. You mentioned that the last time Leo had a challenging year was 7.5 years ago, which is exactly when the accident happened that took my mom's life. My family was coming home from Florida, where they went to attend my cousin's wedding. I was in college so I didn't go with them. On the way home from the airport, less than a mile from being home, a drunk driver in an 18-wheeler drove thru a red light directly into my family's car. My mom was killed instantly and I was so relieved for you to say she went fast and didn't feel any pain. My dad and sister who were also in the car were in the ICU for a month and then rehab hospital for another month. In the beginning, doctors weren't sure if either would make it. So at age 20, I was brought home from college to see my dad in a coma, my sister in too much pain to move and had be the one to make all the funeral arrangements for my mom. At one point you had mentioned the accident and I guess now I wish I had focused a little more on it. Maybe it was just too overwhelming for me to process all at once. Regardless, you mentioned several times them asking if I'm happy. I'm happy that I have found a wonderful partner in life and I'm happy that I'm living in New York and have a good job. But I still feel this huge emptiness in me from the accident. Most happy and good things are at best just bittersweet to me.

So much you helped connect me with has really resonated with me and I can't thank you enough for sharing your gift with me. I haven't been able to truly visualize my grandparents interacting together in so long and it's like you just brought them to life for me. At some point in the future I would like to make another appointment to ask questions, but for now I am just truly happy knowing they are all really here watching over me. Thank you.

--
Jennifer Lieber

Hi Gail,

I've been meaning to write you for some time, so this note is long over do.
I want to start by saying , thank you ....

It must've been back in November or December when I called into your talk show "Angels Among Us". I had never done that before but did come to you for a reading a few years back. I was desperate for an answer and was hoping you would give it to me. I never got the chance to speak to you on the radio itself but was able to ask a few questions on line and the questions were read back to you by your assistant ( I guess that's who she is). I had asked you about whether or not I would become pregnant. I was at my wits end and had been trying for 2 years - I was torn about fertility treatments and had reservations about doing that. You assured me that you saw a pregnancy in Feb. and that fertility treatments would not be necessary. YOU were absolutely right. I am almost 5 mos pregnant. Found out in Feb. as you predicted. And it happened naturally. I want to thank you from the bottom of my heart. I had given up , lost hope and you helped me with that!

Thank you again.  Karen Alfano  New Jersey


Dear Gail,
 
I just wanted to thank you for being such a good friend.  I know that I have been bothering you lately about the way things are going between me and my wife I appreciate all of your kind words and your listening, especially these last two days.  I appreciate the encouraging words that you give me and as well as the words from Gray Wolf.  Its kind of funny that I can help people solve their problems in my job, but sometimes I feel like I cannot even help myself.  Its an honor to have you as my friend and as always I wish you all good things.  Have a good night.
 
Sincerely,
 
Ed
Bridgewater, NJ


Gail

I visited you at the end of April.  You told me that my granddaughter Laney and I had met before.  I needed to know that.  I was feeling some sort of connection but didn't know what to do with it.

Laney's mom is pregnant again!  Exactly on the timeline that you said.  Of course they are hoping for a boy, which is how you predicted it.  There is something about the first sonogram pictures that tell me it is a boy.

My older daughter hasn't divulged any news yet.  She was excited that you suggested twins for them.   We are hoping for an announcement soon. 

You had asked me for questions that I might want to ask my husband.  I wish I had asked how the grandchildren would have called him.  Funny the things that one thinks of.

Thanks so much it was a great experience!

Ann Mary

I am visiting my son in Myrtle Beach, the Palace Resort I went down to the beach today choose a spot on the beach right next Gail.  I never met her in my life and just started spilling out all about my current health problems.  I mean I have no idea why she was just sitting there.  I have an abdominal hernia rather large I need 2 knee replacement  and my lower back has been really hurting me and I'm having problems passing urin the fluid just stays in my body. It was so bad I had to go to the ER last week.  My feet were so big I could hardly walk.  Well she came up to me and told me she sent me something like some kind of healing.  I want u to know I had not passed urin all day, and about an hour ago I started going. Iv gone twice within the past hour my legs have gone down and my feet almost look normal.  I mean Ilmew I was going back to the ER tonight and now look what happen toe WOW
Pamela Bigham
Greenville, SC


Hi Gail,
Just a note, after serious soul searching I finally extended my dad forgiveness for the horrible act he did forty years ago.
I asked him to be at peace for eternity and I hope to be with him someday!
I couldn't have done this without your encouragement.
I'm so glad Robin and I have you in our lives.
Warmest regards and good health to you!
God bless
PS
I'll be in Venice in the next few weeks and I'll do my best to find your grandson and get his photo.
Bob Curry  Port Charlotte, Fl

Gail-I finished your book. I'd love to sit down w u some time and talk about it but suffice to say that I am very proud, honored and lucky to call you my friend. If you believe that your purpose was to come back and help people, I can only say that you have brought happiness, relief, hope and a real desire to explore communicating with those who have passed over into my life. The sorrow of the loss of my loved ones has been replaced by the faith that they are still here In the spirit that I knew them while they were here. I my humble opinion you have more than made up for the trials and tribulations you've had in your life just by the way you made me feel and you can quote me! Today when I went to St Andrews church at work for adoration of the cross, there was a big statue of St Anthony there and I thought of you. You are a special person and I hope when you think about your life that you now include the people that you've helped as well as those people who were negative in your life. As you say-thank God for the abundance !!!

What I said comes from my heart. The police stories were great and remind me of many of the type a's I work with. Very moving stories about suicide and abortion. I never even considered the relationship between the baby and the unborn spirit. Your co author had incredible commentary.

Frank,   NJ

Working with Gail Lionetti was interesting to say the least. I really didn't know what to expect but when all the leads are exhausted and there is nowhere else to turn, why not put it out the universe. I first learned about using a psychic in police work through Dick Ruffino when he introduced me to Dorothy Allison. I was intrigued by her. So, when another PI like Gail called me and offered up your services, I couldn't refuse. All I wanted to do was give the family of Susan Johnson closure.
As for Josh the jumper case, I felt so bad for his family too. I had nowhere to turn there either, so why not ask you Gail. I believe I sent you a picture of him. I somehow knew all you needed to do was look at a picture (face front) and you could tell if the person was alive or on the other side. If memory serves me correct you knew he was gone. Then you told me some numbers, 1, 5, 8. I don't recall the order and I don't recall what else went with that. But sure enough the kid was found at low tide in the Hudson River at the foot of 158th or 185th street. I don't remember if you told me anything else about him, you probably did. It was too long ago and of course I don't have the file.
In my experience, looking for a dead person is easier then looking for someone alive. My job in missing persons was always to provide closure for families, no matter what that meant. I always felt I had nothing to lose by using a psychic. I also believe people like you have a special connection out there in the universe and if you can bring that energy to the table and help, why not.
Your friend
Det.Barbara Stio

I have known Gail Lionetti for over eight years and we have been friends for the past six. Gail's support and guidance have been instrumental to me on my journey to heal my emotional wounds. She has helped me to find balance and purpose in my life. Currently I coach others toward balance and health. I am also in my second year of Interfaith Seminary and will be going on to study spiritual counseling. I do not know where I would be today if her support had not come at a time when it was most needed.
Love & Hugs,
Anthony, NY

Good morning Gail,
You know Gail, meeting a person with your gift is incredible enough in itself but what's even more incredible to me is when I first sat with you (and I'm sure this goes for Dean also, and I know Alex feels the same way too) you have a way to make a person feel as though they're old friends - maybe we are?
It's a comfortable feeling, but also a feeling of safety as well. I'm not sure why I say safety, but that's what pops into my mind. When I left the session and I hugged you I could feel that right through me - I especially felt it then. I'm know if I ask Dean he will say the same. Then on top of it all you don't just move on to the next client, you remember them all, whether by prayer, a phone call or an email (unless of course it was one of those negative clients). Thank you for touching our lives the way you have and I mean that from the bottom of my heart - want to laugh my eyes are beginning to swell up with tears right now - I'm at work I hope no one walks in on me here ;-)
When I first began speaking of you with Dean I wasn't exactly sure if would be receptive towards the idea - but I thought he just might be given the timing. Thank you for meeting with him. I believe you were able to give him more than anyone else could, a connection with his father, relatives, and insight about himself most importantly.
Have a great day Gail,
Frank & Alex Staten Island, NY

I had a reading by Gail and it was unbelievable she is a wonderful woman and spot on I am now a true believer It left me with an unbelievable high that I can not describe I would highly recommend
Dean
Old Bridge, NJ

Hi Gail, You truly blessed me today. I enjoyed speaking with you today.
I thank you for all that you shared with me and consider you to be an old friend who I was just sitting and sharing my memories with. I have never connected with someone on such a spiritual level like I did with you. When you were speaking and saying those key words it was like pictures out of a book in my life, like a pop up book. I know it may sound silly to some but I truly felt like as if you were with me in those moments. You were so exact about what you shared with me. I prayed for answers and asked God to guide me to someone for help and it was you. You have helped me make sense of a lot things in my life that have happened and have given me confirmation that the path I am on is the right one as I walk with God. I will follow the advice given and keep you in my prayers.
I look forward to speaking with you again and consider you a friend.
God bless you, Lisa
Redwood City, Ca

I have seen Gail twice and because of her accuracy, I have suggested her to many family members and friends. The way she connected to people important to me that have passed is chilling yet comforting at the same time. That feeling you get of never being able to speak to someone again disappeared after I spoke with Gail. Her gift is used to help us find closure, continue contact, or just check in with our loved ones. Certain things she says simply brought tears to my eyes because I knew there was no way she was making it up. It was simply the truth and no perfect stranger could invent it. Gail, thanks for your help! You are fantastic and you are very blessed to have that gift!
Sergio, Newark, NJ

Gail,
I wanted to take a moment to thank you for all of your help in the past several months. Will has not seen his little midnight friend and has been able to get a good nights rest, thank God with school back in session. Best of all Linda and I have the bed to ourselves. It still blows my mind that you were able to help us with this problem over the phone.
Since your visit, our dark shadow that peeked around the corner has disappeared as well. As much as I hate to admit it, that thing was quite frightening. The house now has a very peaceful feeling about it.
The best part of your visit, for me , was the help that you gave, concerning my father. Almost 10 years of doctor prescribed and self medication have not helped as much as your information has. Yes Gail, I am still dry, thanks to your help! You still owe me that hug. Standing up!
On behalf of my family and myself, Thank You x100
Love,
Joe, Linda, Rachel and Will
Bluffton, SC

Hi Gail,
Hope all is well. Just wanted to let you know that July 18 the. was 1 yr. sober. Linda and kids say that they like being around me so much more these day's. I didn't even realize that my behavior then was so bad and that it affected so many around me. I hate to hear the stories from the kids about my past. I can't change that past, but I am working hard on giving them plenty of new and good memories.
Thanks again for all of your help !
Joe Huelsman
Bluffton, SC

Thank you Gail. You know that I appreciate everything you have done for me also. God knows that I would not be where I am today without the help you have given me. I admire you for all the things you do and have done for people. You are a very special woman, I wouldn't trade one minute of our time together for anything. We have had some really great times!
I love you like I have never loved a friend before. I also wish you the very best life has to offer. I am very excited that you are starting your hospice training. I know it is something you are looking forward to. I know that whoever is lucky enough to get you as a volunteer.
I will call in the next couple of days. I will always be here if you need me, I'm sure that you know that. I miss you too my friend. Still thinking of your cousin.
Love always
Beth

Hi Gail.
I came to see you shortly after my Mom passed in April. You helped me so much - I just can't tell you. It was like the weight of the world was lifted from my shoulders. I went home, put one picture of my Mom and Dad together (my Dad passed in 2002) in a frame with a "Remember Me" poem and put all the other ones away. I had about 5 or 6 picture of my Mom on the entertainment center and knew it was too much but couldn't find it in myself to put them away until I spoke with you. Now Mom and Dad are hugging each other, smiling, and hanging on the wall. I still miss them terribly, but you told me they were together and happy, and that is what is important.
You do so much good for so many people
Be well, God Bless You, and may others bring you happiness like you bring to so many.
Fondly,
Jane Adams

Gail it is almost 6 years since you did a reading for my pregnant daughter in law........you knew the name and sex of the baby and told her that he would be super smart and that he is a very old soul.....well Jack is now in kindergarten, and is very smart ( I am prejudiced I know). they had teacher conferences tonight, and the teacher told them that he talks incessantly, and at times she said he seems distracted staring into space, but is always aware of what is going on and able to answer and participate in class......the teacher then said, " he is very scattered, and can't sit still, he is an old soul " they were so shocked to hear this from his teacher, and so glad that she understands and "gets" him.........by the way , jack is always talking to his "friend" Matthew......a friend that nobody else sees who has a whole history.......he "lives" in NY and comes to visit.........I know this must be a spirit/angel with jack........had to share this with you!
Nancy Guthartz Pincus Cohen
Freehold, NJ

Angel Guazzo - Palm Coast, FL
My experience with Gail, goes back to Raritan High Days. we have known each other for a very long time. She has helped me in so many ways, The loss of My Dad, and just a few weeks ago, The loss of my X-husband, I was having a very hard time with him going over , and I called Gail to tell her he passed, You see Gail was at My Wedding when Rudy and I got married. When I called her to tell her she made me feel so much better, by saying, he was ther with her, and she gave me a message from him. I Love her for what she does, Gail is an Angel among Us.
I Love You My Friend
Angel

Laura Torres-Erickson
I visited Gail after my brother passed away...She mentioned name's of his friend's and my childhood friend's..She saw 3 angel's surrounding my head. And I have an Indian Spirit Guide. She described him and when I got home I felt like she was describing my brother..the one that had passed...I am still troubled by my brother's death. I alway's talk to him and alway's think about him all the time. I miss him so much..Word's can't describe. When I went to see Gail she made me feel sooo good..Carlos was happy and playing Basketball with children. I was happy and relieved...I still miss my brother. I miss our conversation's on the phone. Gail is the best ever!!

Karen Hanvey Alfano
Hi Gail,

I've been meaning to write you for some time, so this note is long over do. I want to start by saying , thank you ....

It must've been back in November or December when I called into your talk show "Angels Among Us". I had never done that before but did come to you for a reading a few years back. I was desperate for an answer and was hoping you would give it to me. I never got the chance to speak to you on the radio itself but was able to ask a few questions on line and the questions were read back to you by your assistant (I guess that's who she is). I had asked you about whether or not I would become pregnant. I was at my wits end and had been trying for 2 years - I was torn about fertility treatments and had reservations about doing that. You assured me that you saw a pregnancy in Feb. and that fertility treatments would not be necessary. YOU were absolutely right. I am almost 5 mos pregnant. Found out in Feb. as you predicted. And it happened naturally. I want to thank you from the bottom of my heart. I had given up, lost hope and you helped me with that!

Jim Ceres– Union Beach, NJ
" Dear Gail,

The day of your birth is the reason I write to you today. I may not remember the date or the time of day it was, but I am sure it was a most special occasion. It is difficult at times for one to express their inner most feelings with others, so therefore I will try to put on paper what I hope that you already know, and if not it will hopefully be a treasure for your soul to keep.

You have not had an easy ride down this road called life, but be reassured when I say that I do understand. We all have times when we feel low, rejected, unloved, or even unworthy. But believe me none of these apply to you, and if they should appear for a short period of time, remember that they shall pass.

You are a very special person with a very special gift given to you by GOD. I do realize that at times although precious it can be a heavy burden for your heart to bear. Since we are in a time of so much sadness and strife.

I want you to know that having met you has changed my life in so many ways you may never realize. I find this to be an unfortunate situation in your life, because at times you may be tired and drained and feel sorrow beyond words, please allow yourself to remember one very important lesson for life as you have helped me with so many of my own.

Through all your trials and tribulations in life and with so much despair and negative energies you face simply turn the darkness into light. For at the times when you are feeling at your lowest and don't know where to turn, look up and give thanks to GOD for permitting you to feel the lows of this life for they are only temporary.

As you do this, you will then feel all the positive energies and love that not only I, but all of the others that you have helped lighten their burdens. You will then have the strength, courage, determination, satisfaction and love for your life to reach new heights that you never dreamed possible..

If the day should ever come when it may seem that we no longer speak or that life's paths have led us into different directions, please remember one thing more, THAT YOU WILL ALWAYS BE MY FRIEND IN MY HEART.

LOVE JIM CERES "

HI GAIL,
WOW, WOW, THAT IS GREAT NEWS. I TOLD CAROL YOU WOULD BE BACK. I'M REALLY GLAD YOU LIKED THE TESTIMONIAL I SENT TO YOU. IT WAS STRAIGHT FROM MY HEART. YOU ARE HONESTLY ONE AMAZING WOMAN. LIKE I SAID PREVIOUSLY I CAN'T BEGIN TO TELL YOU HOW YOU'VE CHANGED MY LIFE AND MY OUTLOOK ON LIFE. MY MOST DEVASTATING MOMENT WAS WHEN I MISSED YOUR PHONE CALL. YOU WOULD OF THOUGHT I MISSED A CALL FROM THE POPE. (HA, HA) TO ME YOUR BETTER ANYWAY.
I CAN'T WAIT TO SEE YOU AGAIN.
SINCERELY,
LIZ SCHEMBECK, Pa

DEAR GAIL,
      FIRST, I WANT TO THANK YOU WITH ALL OF MY HEART FOR BRINGING MY HUSBAND THROUGH TO ME. THE FIRST TIME I CAME TO YOUR SEMINAR WAS ON 10/27/07 IN FARMINGDALE N.J. THE SECOND TIME I CAME TO YOU SEMINAR WAS ON 03/28/08 IN EATONTOWN N.J. BOTH TIMES MY HUBAND CAME THROUGH. (I\'M ACTUALLY FRIENDS WITH MIKE AND CAROL DELUCA)MY HUSBAND PASSED AWAY ON 07/09/07 HE WAS 44YRS OLD. WE WENT TO BED THAT NIGHT AND HE DIDN\'T WAKE UP THE NEXT MORNING. HE WAS ACTUALLY A FIRST RESPONDER TO THE WORLD TRADE CENTER AND WAS SICK FROM THAT. I DID NOT EXPECT HIM TO DIE AND IT WAS THE SHOCK OF MY LIFE. I HAVE BEEN DEVASTATED SINCE HIS PASSING AND WE HAVE 3 YOUNG CHILDREN TOGETHER. 2BOYS AND 1GIRL AGES 16,12 AND 8. I JUST WANT TO TELL YOU THAT YOU HAVE HELPED ME MORE THAN YOU CAN EVER KNOW. YOU TOLD ME THAT HE WAS HAPPY WHERE HE IS AND THAT I NEED TO LET HIM GO, SO THAT HE CAN MOVE ON AND GO TO THE LEVEL HE NEEDS TO BE. SO AMAZING THAT I HAVE BEEN HOLDING ONTO HIM WITH ALL MY MIGHT. I DIDN\'T KNOW
  THAT I WAS HOLDING HIM BACK FROM WHERE HE NEEDS TO BE. I WAS JUST BESIDE MYSELF WITH THE LOSS OF MY HUSBAND AND COULDN\'T LET HIM GO. YOU ALSO ASKED ME IF I FEEL HIM IN BED WITH ME AT NIGHT AND I TOLD YOU THAT I\'M SO TIRED WHEN I GET IN BED THAT I FALL RIGHT TO SLEEP. YOU SAID HIS ANSWER TO THAT WAS THAT SOME THINGS NEVER CHANGE. THAT IS SO HIM. (HA, HA)YOU ALSO SAID THAT HE WAS BEING OBNOXIOUS. THATS MY HUSBAND. YOU ALSO SAID THAT HE WAS SAYING THINGS THAT YOU COULDN\'T REPEAT IN FRONT OF EVERYONE. I WAS HOPING THAT YOU COULD PLEASE TELL ME WHAT IT WAS HE WAS SAYING. ANOTHER THING YOU SAID THAT HE TOLD YOU WAS THAT WHEN I WAS READY TO MOVE ON HE WOULD SEND SOMEONE TO ME. WELL I WROTE HIM A LETTER AND APOLOGIZED TO HIM FOR HOLDING ON SO TIGHT AND NOT LETTING HIM MOVE ON TO WHERE HE NEEDS TO BE. I TOLD HIM THAT HE WILL ALSO BE MY #1 AND I WILL ALWAYS LOVE AND MISS HIM, BUT I\'M READY TO MOVE ON AND LET HIM GO. (FOR HIS SAKE ANYWAY)I JUST WANTED TO SAY THANK YOU AND YOU HAVE
  REALLY LIFTED MY SPIRITS TO KNOW THAT HE IS O.K. WHEN I GOT HOME I CAN\'T BEGIN TO TELL YOU HOW I FELT. I REALLY CAN\'T EXPLAIN IT COMPLETELY. IT WAS JUST A FEELING WEIGHT BEING LIFTED OFF MY SHOULDERS SOMEHOW. I GUESS AN INNER PEACE. I TRULY HAVE LET HIM GO AND I FEEL THAT I HAVE DONE RIGHT BY HIM. I WANT HIM TO BE HAPPY, WHICH IS MOST IMPORTANT TO ME. I KNOW THAT HE WILL ALWAYS BE WITH US. THE THING THAT I HAVE A PROBLEM WITH IS HIM SENDING ME SOMEONE. I CAN\'T IMAGINE THAT HE WOULD WANT ME TO BE WITH SOMEONE ELSE. I GUESS HE JUST DOESN\'T WANT ME TO BE ALONE. I HOPE THAT YOU DO INTEND TO COME BACK TO NEW JERSEY AGAIN IN THE NEAR FUTURE. I WOULDN\'T MISS IT FOR THE WORLD. BY THE WAY CAROL IS REFUSING TO SIT WITH ME AGAIN BECAUSE SHE SAYS THAT PAUL IS ALWAYS TAKING OVER. WELL THATS HIS PERSONALITY AND HE HASN\'T CHANGED A BIT. :) THANK YOU, THANK YOU, THANK YOU!!!!!!!!!!
SINCERELY
LIZ SCHEMBECK

Hi Gail,
I just wanted to tell you that my dad got the all clear today. For right now, he is officially CANCER FREE!!!!!! You were so nice to him and helping him feel that he could beat it, that I just wanted to let you know and say thanks for keeping him in your thoughts. He is looking and feeling great. He is getting ready for fishing season and enjoying life again. My mom is so relieved and they are having fun getting out and enjoying retirement a lot more. He's eating like a pig lol!
You said dad was going to be fine and I put a lot of faith in that and boy I'm glad I did! Thanks again for your good thoughts and wishes.
Take Care,
Tamme, Keyport, NJ

New Jersey will be a better place with you in it!  Be well...I am sure to see you once you return.
Rena

I want to Thank Colleen Lenahan Almoney for thinking of me in the Relay Race for Life. Colleen is part of my staff for Angels Among Us and I was teary eyed when she sent this to me. It is so important for us to realize that Cancer take many lives, it took my sister Ginger, breast cancer, and my mother, lung cancer, as I have fought it 3 times, YES I am blessed. So again I want to Thank Colleen for doing a great job, as always, in keeping the awareness alive in saving lives from such a deadly disease. Love & Light to you Colleen  always Gail Lionetti
On May 17 & 18, 2008 I participated in my 3rd Relay for Life, a national fundraising event for the American Cancer Society. This event was created around the premise that "Cancer doesn't sleep." From 4:30pm on Saturday to 10:00am on Sunday, teams of walkers took turns walking in memory of loved ones that have lost their fight with Cancer, or in honor of those who are surviving. There was live music, booths that sold food, crafts & clothes, and a Silent Auction. It was a lot of fun.
My mother is a Breast Cancer survivor ~ the first woman in our family to have this diagnosis. I remember the day she told me... I heard the words, "I have Cancer" and not much else. I put on the game face until we got off the phone. Seconds later, I looked at my boyfriend. I said, "My mother is going to die," and burst into tears. Needless to say, I was scared to death.
I was living in Maryland then, and had a job that was difficult to break away from (at least I thought so at the time). Mom assured me that I didn't need to take time off to be there for her surgery, so I stayed put and called often. I should have been there. It was a combination of my mom not wanting to inconvenience me, and a huge dose of my own denial. What a regret. Anyway, that was my first, adult introduction to Cancer.
I remember when I learned that my first boyfriend, Rob, had Cancer. We were only out of college for 5 or 6 years. I thought, "People my age don't get Cancer." Oh, yes they do.
I am close to many people surviving with Cancer... my Aunt Jo. My friend, Gail. Chip's Uncle Andy. My friend, Heather, who is just about my age. Countless and important others who have lost the fight.
One of the ways that I honor my loved ones is with a Luminary (you know, the white lunch bags with candles in them). For a few dollars, they slap a sticker on it with the person's name, like this: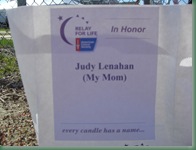 During the event,the track is lined with the bags, and as you walk, you look for the names of your people. The thing is, there are hundreds of them. In some places there are THOUSANDS. With each step, you read one more name, and then it hits you - each bag represents a person touched by Cancer. Then you see a name you recognize and think, "Damn. THEY have Cancer?" You see names you don't know and think, "What kind of Cancer do/did they have? How old are they? Do they have a good support team? Did they find it in time?"
This year, there were so many Luminaries that I couldn't find all of mine. I had only walked 1/4 of a lap and I was already crying.
Each Relay team member gets a T-shirt. The captains wore red this year. Relay committee members wore green. Cancer survivors always wear purple. At one point, I walked over to our lawn chairs and there were two people sitting in them - a survivor and his wife. The woman apologized for helping themselves and I told them that it wasn't a problem. "It's my pleasure! We are here for YOU! Please make yourself at home." She looked confused and then explained that they had never been to a Relay for Life event before. So, I took a few minutes to explain the concept, and that I was there for THEM - and for everyone that either HAS Cancer, or provides support to someone who has Cancer. Then she started to cry, and I started to cry, and I hugged 2 total strangers.
It's a LONG day, and night, and morning. This year, I was feeling under the weather, so I stayed until 11:00pm, and went back in the morning. All together I walked a little over 8 miles. I won new pots at the Silent Auction, too! Did I mention that, as of RIGHT NOW (Sunday, 7:08pm) I have raised more money than any other person in DARE COUNTY. I am proud. I look forward to the day when I no longer have to hear the words, "I have Cancer."
Thank you for your help this year. YOU make a difference.
XOXO,
Colleen Almoney
Kill Devil Hills, NC

You know what's interesting, when I saw you last, my Aunt Betty was the first person to come through She was holding her heart. The nest night, I ended up in the emergency room with chest pain and they admitted me. My nuclear stress came back with a positive finding and I am waiting for authorization to go for a coronary cat scan (as opposed to a Cardiac Catheterization that th first cardiologist wanted me to have.
Interesting... The good news is I am feeling much much better now.
Anyway, I'm glad you are back.
Chris Kennedy, Brick, NJ

Dear Gail,
Hello, I hope this E-mail finds you well. We had our phone reading on Fri. 1-18-08. On that day you were going to the doctor for an evaluation of your breast problem. Of course I have been praying for you to have good results. Please if you have the time, let me know how everything is. I keep thinking of you and hoping for good news.
I also want you to know how much you helped me during our reading. You said so many things to me that others have said, but for some reason it finally clicked and made sense to me coming from you. I did follow all your advise ( almost completely ), and I feel like a new person. You confirmed all my feelings, I am not just mixed up and nuts !!! I can't thank you enough for your time, kindness and gift. It was such a pleasure talking to you. I keep listening to the tape, even in the car. It keeps me focused and feeling strong. Again, if you have a minute, let me know how everything is.
Take Care, GOD Bless……………..
Sincerely,
Beverly Senior

Gail
I am really glad that you came into my life. I will always do my best to stand by you and be there for you whenever you need me. You are one of the very important people that I thank God for placing in my life. I am not sure if you will ever fully grasp how much your psychic abilities touch and change so many peoples lives. You can't remember all the people you have helped, but I can assure you that there must be well over a thousand people who will NEVER forget how you helped them. You bring peace to their minds and show them that they can open their hearts to love again. How they can forgive and let go of hurts from the past. How to move on with their lives and know that their loved ones are still around them. That they are at peace and happy where they are now. That is why I always say that you are our ANGEL ON EARTH. You are forever in my heart and in the hearts of more people then you know.
My friend, if I could give you one thing, I would give you the ability to see yourself as others see you... then you would realize what a truly special person you are.
Your friend today and always,
Beth, Howell, NJ

Thank you Gail
You help so many people and I know that as I do, the people you help and give comfort to, pray that you may also have comfort and love in your life.  God Bless you for all you do.
Agi

Thank You so much for your response. All I can say is God's will be done! Only He can show your kids the way. And like you said... sooner or later your son will see. God will see to it that all truth is revealed. It's just a matter of time. God truly bless you for your strength, Gail. I'm sure you ask for it every day regarding your family matters. I will keep you in my prayers ... you can count on that!!! You are a love and a treasure, and I miss you.
Please hang in... God's got it all planned out perfectly!
Love,
Dina, Howell, NJ

Gail you are an amazing person with truly amazing gifts.  I am always in awe of all you do..  I have to say that you were a huge influence on me with starting me on my path.
Take care and be well,
Jeanne, New Jersey

Hi Gail, I just called you to get your email. I was the one who knows your friend Louise. How are you? I'm ok. You had seen the picture of my friend who's husband had died and he had told her to look for dimes and that he touches her on the right shoulder and her hair. When I called her and told her she started crying and sais she was in a store in the city and someone tapped her on her right shoulder, but when she turned around, no one was there! She also has been finding dimes everywhere, her son's pants, her daughter's bed, under her desk! It really cheered her up. I just wish my luck was so good. You did tell me about 2 job opportunities, which I really need b/c I cannot stay at my job any longer! Maybe a nice, tall, rich guy wouldnt be such a bad order also, lol!!! Well, I just wanted to let you know that, cause we are all freaked out!!! Hope everything is well with you. I told Louise you said hi. She was very excited that I called you.
Melissa, Rahway, NJ

Debbie sends her best.  Also, did she tell you that my son's wife is expecting a boy with a scheduled C-section on August 10th?  In April 2006 you told me that they would be having a boy with a July 2007 birth date.  Can't get any better than that!  You are, as always, amazing.
Xoxo
Thanks, Linda (Hassa)

Hi Gail! Congratulations and best wishes in your new home! I just wanted to give you confirmation that at my daughter Lisa's wedding last Friday our good friend Basil was spotted in a bright red jacket. Actually he ws more than spotted, as my sister Lynn and I were talking this person that neither of us knew, stood directly across from us wearing the brightest red jacket!! When we finally came to our senses, we both grabbed for our cameras to take a picture and send it to you. But as soon as we did this the person walked away and disappeared never to be seen again. The weird thing about it was this was toward the end of the evening and had never spotted the jacket until we were both together,standing talking about your predictions of the red shirt being Basil and the blue dress. After the red jacket disappeared a woman wearing a long pale blue dress stood in the exact spot, we again had never sen her before that time nor did we know who she was. So if Basil should come to visit you, would you please thank him for me, it meant so much to me and I shall never forget all he meant to me while he was here with us and will always pray for him. Wishing you a Happy,Healthy Thanksgiving and as always you are in my thoughts and prayers. May God bless you and protect you.
We will call you soon.
Barbara Santora and Lynn Dougher

Hi Gail,
We had a great time at your dinner.  You were amazing and everyone had such a great time.  You changed so many peoples lives that night.  Thank you so much for making everyone's life brighter!  I'm glad that I met you!  
Love,
Carol
PS:  The food was good too!

Ms. Lionetti did a reading for me over the phone and as we talked my daughter, Jennifer, showed up from the other side. I was flabbergasted and thrilled at the same time. Gail clarified her presence with some questions that only Jen and I would know the answers to. There was a question of a friend of Jen's named Mike that she lost years ago and she knew I would remember him. Then there was a Margaret Mary.Being catholic the only thing I could think of was a nun and Jen didn't have any teachers by that name. During the night I awoke and realized that Margaret Mary was Jennie's best friend Maggie. I only knew her as Maggie. It was only when she got into trouble that you would hear her mother call "Margaret Mary". These clarifications made me feel "euphoric". I miss Jenn so much and to hear these references just made me feel so good.
Donna Shea Kendall

Hi Gail,
I just wanted to let you know, the man you told me id meet who had a red house or something red around his house I'm about to marry Oct 25th 2008.
Nicks house is red! The moment we pulled up to his house I knew this was the man you must have been talking about.
You described him to the tee, right down to the shaved head and goat-t. I love this man with all my heart! Because of you I let my guard down and let him in.
Thank you so much!!!
Christine Matzer, Jackson, NJ

I felt I had to share my thoughts today with all who have come through and into my life, I am ever so grateful
To all my friends be they life time or ones I have met in a brief passing. You are thought of today with happy memories, a smile on my face and a warm feeling in my heart. Each of you have touched my life and I am very thankful for that. May this day remind each of you of all the blessings you have had in your life.
May God continue to Bless you all, love and light Gail Lionetti

Animal Communication Story
"In March of 2002 I had a reading come in, the person was a Race Horse owner. I will give her name only as Kathy. She asked me to read a picture of someone but didn't have a separate one of the person she was asking for so she told me as she was running out of the house she grabbed the one picture that showed her horse PRIVATE PROOF in the winners circle. There was many of people in the picture, but when I picked it up I heard the horse say to me "My left front leg has 2 broken bones" I looked at the picture and said to myself "I must be losing it" I have heard and seen animals before from the other side but none like this who was still here. So I sit there thinking what am I going to say to this owner, she saw the look on my face and said "Tell me what you are getting" I said to my guides please help me, I don't know if I am really getting this and how do I approach this since it was a Race horse and a winning one at that. So I worded it "Well I don't know if it happened or it is going to happen, but the horse is telling me her left front leg is either broken in 2 places or it is going to be broken" Kathy looked at me nonchalantly and said "Oh yes she does have 2 broken bones in her front left leg" I looked at her and said OH MY GOD I did hear the horse tell me this. We both laughed. Then Private Proof went on to tell me she was going to race again she was a Miracle Horse. Well I proceeded to tell Kathy about a friend of mine Debbie that does aromatherapy healing oils, me being the biggest skeptic of them did have the opportunity to be healed by them and so I asked Kathy would she like to have the horse healed, she said she would try anything, So I connected Kathy to Deb and we even took pictures and videos of Private Proof she is doing real well her leg is healed and she is going to be impregnated and then race once again. I am so proud of Private Proof she is a beautiful horse and I will treasure the picture I took with her. So when Private Proof does go out on the track once again I asked to be notified because I feel such a connection to her and am certainly very proud that I was able to connect Proof with Deb who helped her with her leg. To see Proof galloping in the pen makes me so proud of her. So the moral of the story is that when I was supposed to read someone else in the picture Private Proof yelled out to me about her leg and from there we connected her to Deb and she is on her way. It wasn't meant for me to read the person who was asked, but to see Proof in the picture and have her call me and get her help."

I would like to share an experience that I had after the May 3rd "Angels Among Us" show.
"After the May 3rd "Angels Among Us" show, as I was talking to one of the wait staff, a 17 year old named Brian, I saw St Michael standing next to him. After I told him, Brian informed me that he carries St Michael's card in his wallet all the time and then he opened the wallet to show me the picture of St Michael. Then I told him that he would meet someone named Jennifer. I was later informed by the owner of the restaurant that Brian did indeed meet a Jennifer a week later at a banquet he was serving."

Gail

Jane Adams, Manalapan, NJ
Gail -
May all of God's peace and blessings be with you and yours during this wonderful holiday season and always. You have given so much to so many - may God return it to you 10 fold.
Whatever you are going through, I know God is there with you and getting you through it. You have so much faith - you know He is there right beside you.
Please keep me informed of any Angels Among Us shows you will be doing in either NJ or Md/De area. I went to the one at the Sheraton and will definitely attend the next one.
May God's peace and love be with you always.
Merry Christmas, and a Blessed New Year.
You helped me so much - I just can't tell you. It was like the weight of the world was lifted from my shoulders. I went home, put one picture of my Mom and Dad together (my Dad passed in 2002) in a frame with a "Remember Me" poem and put all the other ones away. I had about 5 or 6 picture of my Mom on the entertainment center and knew it was too much but couldn't find it in myself to put them away until I spoke with you. Now Mom and Dad are hugging each other, smiling, and hanging on the wall. I still miss them terribly, but you told me they were together and happy, and that is what is important.
It's still hard, especially at this time of the year, but I know God is with me and He'll pull me through it.
You do so much good for so many people. I truly hope your Christmas will be happy, blessed with the love and smiles of family and friends, and your new year filled with good health, love, and peace.
Be well, God Bless You, and may others bring to you happiness like you bring to so many.
With love

Debbie Stallings, Airmont, NY
Hi Gail:
We met several weeks ago when you were so kind to give me a reading at your NJ home in the midst of boxes as you prepared to move!
I cannot thank you enough for taking time out of what was surely an extremely hectic time in your life, to spend time with me. The past year has been an extremely difficult one for me with the loss of my soul mate, my husband\'s ongoing terminal illness and what I belive to be a delayed grieving over the loss of my sister several years ago. Meeting you and receiving your reading with the messages from those I can no longer speak to myself has given me a sense of peace that I have never experienced before - you have truly changes my life and I\'m very anxious to talk to meet with you again via phone! I wish you continued happiness in your new home down South. Selfishly, I wish you were still in NJ!
With very best regards

Melissa, Colts Neck, NJ
Your readings were right, it is confirmed...Gavin has a little sister on the way! I just had my blood test today to confirm things and am guessing I am about a month or two pregnant! Just wanted you to know...at least now I can stop getting sex advice from the other side!

Tom Burke, Atlantic Highlands, NJ
Hi Gail,
Thank you for today. It was such a great experience to speak with my Mom and Jimi Hendrix. Whoddathunk??? I'm still thinking of all the things I could have asked and all the things I got answers to. I am really grateful to have been able to meet with you before you move. But also sad that I won't be able to run up to Hazlet to see you got other readings(?).
It was also a lot of fun to just chat with you afterwards. Its always nice to make new friends and especially when they are someone with substance.
Thank you again and don't forget my offer for help.

Patty, Atlantic Highlands, NJ
I wanted to thank you for the reading you did for me on Saturday. I went into it with an open mind and did not have any expectations. I really wasn't sure who, if anyone, would come through and was so glad when my father did. Although my mother seemed to be in the background most of the reading, I was glad to hear that she was there. Quite the difference from when she was here. She never stayed in the background! My "blood used to boil" as you say, when she was alive. She was never very happy and made everyone around her absolutely miserable. But as I said on Saturday, you try and learn from past mistakes, be it yours or someone elses, and move on, make it better for yourself and your loved ones. It hasn't been an easy road, but one that I live from day to day. Everyone makes their own choices, and I can only have to answer for mine. It will certainly be easier knowing that my father and my mother as well, are with me. I always knew they would be, but hearing you say they are will make all the difference in the world. By the way, I have slowed my speed down to the speed limits when I drive!
Thank you again Gail. I will be in touch.
Take care

Cheryl, East Brunswick, NJ
Hi Gail,
It's me Cheryl , spoke to you a few months ago because I kept seeing the numbers 911 every where I looked. You had told me about my son Eric and you mentioned that "some one was coming for me" you said that he would have piercing hazel eyes and that he would come for me. I am so happy and so excited because my piercing hazel eyed man came for me and we are so happy and feel that we were meant to be and that we have known each other for life times. His eyes do make me melt when I look in them just like you said they would.
I just wanted to Thank You so much for talking to me that day...you have helped me more than you can imagine. I am so happy and so is Mike and it's like being in Heaven all over again. I feel so incredible!!!!
Thank you again

Monica Ortega, Brooklyn , NY
I wanted to Thank You so much very much for the reading. I was blown away with my friend who had crossed over and I did not even know that Luis had crossed and that he watches over me. I felt such a warm feeling in my heart when he said that he will always be there whenever I need him. Since the reading I have felt as if a heavy load have been lifted. I truly Thank You.

Monica Ortega, Brooklyn, NY
Hope all is well. I just wanted to mention to you that I did receive the promotion you mention and that withthe new title I received a $5000 increase in my salary. Thank you so very much. Everything has been going well.

Michelle Petrosino, NJ
Hi Gail,
I have not been to see you in while in fact it has been just about 2 years. I wanted to let you know that certain things that you told have indeed come true. I know that you like to get confirmation emails. You told me that my next child would be a girl and that my son would love her dearly. We welcomed Julianna Nicole on August 15, 2005. My son has been by her side from day one. You also told me where I could find my beloved lost earing and it was right there where you said it would be. My sister has been to see you as well. You told her that she would not marry the guy she was with at the time and that she would marry someone she would meet shortly after her meeting with you. Well she is going to be married to a wonderful man this coming October. Shortly after she met with you, she broke up with her then boyfriend. What a blessing. I was hoping you might be able to give me some insight on my house. We will be selling it shortly and I am hoping it will go well. Also,
my husband lost his wedding band in Dec. We can not find it anywhere, we would hate to sell the house and leave it behind. My sister and I would both like to thank you from the bottom of our hearts. You are a wonderful and kind person and we are greatful for meeting with you!!!
Thank you for sharing a part of our lives!

Teresa, NJ
Hi Gail.
Thank you so much for the reading!! I really enjoyed it!!! You are an extraordinary person! May God bless you!
Take care!

Kimberly, Stroudsberg, Pa.
I just wanted share this story with everyone. At the end of October, I ran into Gail at a family member\'s party. At this point, my husband and I had been trying to get pregnant for about 5 or 6 months. Gail walked up to me and my parents and said \"In a month and a half you will be pregnant.\" Now, I\'m a believer, but this time I was very skeptical because we were having such a tough time. Well, exactly a month and a half later, I was due for my monthly friend, but I decided to take a test and it was positive! I couldn\'t believe it! Gail had also told my mom that she saw a girl and we just found out the sex... it's a girl :) Thanks Gail

Mark Miranda, Hillsborough, NJ
Gail,
I would like to thank you again from our recent meeting. Just like to mention also to you that I did buy scratch off from 4/8-4/17 and won $17.00, it may not be much but I did win. Thanks again and hope to hear from you soon.

Nancy Kloby, NJ
Dear Gail,
I am soooooo happy for you. I hope you find everything you could ever want in your new state. You are a wonderful person and you deserve the best. Thank you for everything!!!!!

Rita, Hazlet, NJ
Gail I wish only the best for you. you are a very special person. you helped me more than you probably know during a very difficult time in my life.i will always remember you and please know that you are always in my prayers. i hope your new journey brings you peace and love because you deserve that. i hope to see you one more time before you leave. only the best always....

Angela Schaub, Holmdel, NJ
I hope your new journey proves to be all that you are dreaming of. I will really miss you! I would really like to see you soon. Are you still taking appointments?
Thank you for all your time, wisdom and spirit. I will call you, all my best

Joyce Santone, Clark, NJ
Wanted to wish you the best of luck in your move. I've been reading your book and it's very good. (I'm not much of a reader; just don't have the time but I'm enjoying it)
You've touched my life and my childerns lifes also. And I thank you for that!
Lots if happiness and joy!

Katey Pais, Keansburg, NJ
Hello Gail,
This is Katey Pais. My mom and I heard from Jean Boulos that you would be leaving New Jersey shortly. I was just wondering whether you have stopped doing readings yet or not. If that is the case, since I probably won't see you, I would just like to thank you for helping myself and my family over the last couple of years. What you do for people is amazing, and we appreciate your kindness. I wish you continued success and happiness in your new home, also. Thank you again.

Liz, Florida
I wanted to let you know that during one of my readings those who passed before us said I should becomean RN. Well I am almost finished. Academically I have done well and intend to go for my clinical evaluation 0ctober 6,7,8 in Madison Wisconsin. If I pass I can take my RN Boards. Keep me in your prayers as I am quite nervous. I've been studying like crazy. Thank You again for the wonderful readings that helped me decide to go for my RN. I'll keep you posted. I hope all is well with you!

Dr Phil Agrios, Eatontown, NJ
Hi Gail:
CONGRATULATIONS! I just wanted to thank you for the opportunity for not just speaking that night but to experience your true Godly gift. You will be missed and I pray that all of your dreams do come true.
All the best

Mary Rose Martini
Dear Gail,
Thank you for the update. Is your home here in NJ or NC??? Were ever you are, may your home continue to be a haven for you and all you serve.
I finished reading your book and wanted to let you know it was very encouraging for me. Your determined and gracious spirit touched my heart. It was especially helpful for me because I currently have siblings who are not talking to me. Thank you for sharing your journey in such an honest and open way. I believe healing and forgiveness is an ongoing process for most people, myself included.
I had a reading with you in Jan. of this year. It primarily focused on my elderly Dad and whether or not to move him form Wis. Just wanted you to know your words were helpful and as of Feb he is in Arizona , closer to my sister. As you encouraged, I did have the time to talk with him about " crossing over" and that it will all be "ok". I feel a sense of peace for him and myself.
When my older brother came through, you mentioned a 'beige carpet' on steps and I related that to my Dad's house which was sold in Nov. 05. Recently we had some of my Dad's furniture delivered to us from Wis. Among the items was a poster I used for Larry's memorial service. It had Larry in the foreground and behind him were beige carpeted steps leading up to heaven...I had forgotten that.
During the session you also had asked if I knew a Debra here in NJ and at that time I did not. You proceeded to say she may come into my life to help with changes...as of July, I have been seeing a therapist to help me through these traumatic family issues and her name is Debra !
Thank you again, Gail for sharing you gifts and your journey. It gives me hope and light.

Catherine
Hi Gail,
Thank you for taking the time and doing a reading for me last week.
I just wanted to tell you that I will really miss you when you go to NC. I know I have just met you last year but I do feel very close to you. I wish I had more time to be friends with you. You are a very kind and caring person and I wish you so much luck and love in your new home. I know you have many friends in this area and elsewhere however, if you ever need anything please remember my name and let me know. If I can help you , I will be the first in line.
Thank you for sharing your life with me. That has helped me get thru some of the hard times I have had to go thru.
Take Care Gail and know that you are in my prayers and thoughts every day. Perhaps someday we will meet again.

Laura Erickson. New Jersey
Gail..I'm glad to hear that. Good Luck on your new journey. I 'll never forget you...
You gave me so much joy that day about my brother. I 'll never forget it...I think about it constantly. I want to do a one on one some day again.
Alway's....LOVE ALWAY'S.

Judy, Brooklyn, NY
hi Gail,as much as it was really sad to hear what some of these women are going through ,I did have a good night .I felt so sad for so many of them ,I have to tell you what you do to help them is really a great thing .I can understand you being exhausted I felt that way just sitting there watching you, your really great

Colleen, East Brunswick, NJ
Hi Gail
I'm sorry it took this long to get back to you, it's been hectic here!!! I want to thank you again for the reading, you were amazing!!! Remeber what you said about my dad and the dimes? I've been finding dimes all over the place!!! LOL I cleared off the entire dining room table last night to wrap some Christmas gifts and as I was wrapping the gifts and went to p ick up a roll of paper, I found 3 dimes!!! I said thanks dad, nest time can you make them quarters LOL LOL. I told my daughter Kelly about it all and that he said she was gifted and she needed to tap into her gift. She was rather shocked at that but not so shocked when I told her that her grandfather often was in her room. She said she's alway's felt like she's being watched but she's not afraid. I told her there was no reason to be afraid, that her grandfather was a good man.
My husband is another story LOL, a true sceptic LOL. Dianne was very happy to hear what I had to say, she is such a wonderful person and friend. My mom is waiting to hear the tape although I don't know if she believes it or not but out of everyone she should believe it. My dads mom called her at 2:10am and all she said was take care of my baby. My dad was the youngest. The next morning my mom found out t hat she had passed away at 2am so she found a way to get through to my mom even after death. Remeber my dad saying bingo? Well just after I got on 36 to go home, I saw a big bingo sign LOL and the name Barbara, I thought it was the Barbara my dad lived with after my mom kicked him out well his mother's name was Barara too so I am sure that's who he was reffering to. Funny, after all these years I never knew her first name LOL. I keep holding my friends picture and asking her to talk to you, to show you who did what they did to her, to give names. I wonder if Kelly held her picture if she would get anything? Gail, how can Kelly tap into her gift? Well I better go, it's quiet here so I can wrap some more gifts LOL. Thanks again and I will keep in touch, trust me LOL *HUGS*

Dianne, New Jersey
Hi Gail
I just wanted to wish you a Healthy and Happy New Year!!! I'm so excited about your seminar this month, I can't wait.
Gail, I finished reading your book the other day. It was great!!!! You have really come along way and I know you are an inspiration to many people. I told all my friends about your book and I know they'll be ordering it. I would lend them mine but I'll never get it back!!!!
I read that you were born in November - me too, November 16. When you spoke about places in Jersey City I remembered them and it brought back memories.
Thanks for telling me to let go of the relationship and move on. I know I have to but boy is it hard. Maybe it's because it's a comfortable situation and I'm afraid of change. Why do I feel like I have to have a guy in my life - my life is full with family and friends? I had such a nice marriage though and loved having a partner - maybe that's why. Thanks for listening.
So, do you have any plans for another book????? When my daughter gets married in July I plan on making the middle room into my computer room and I'm going to have a nice bookcase in there. The book on the top shelf will read "Survival on a Wing and a Prayer".
Have a great week, Gail, back to work for me tomorrow.

Dianne Finkel, New Jersey
Hi Gail
I'm sure with all the people you have seen you won't remember me. I had a reading with you a while ago with my friend, Chris. Then my friend, Colleen, went for a reading. You turned the tape recorder off for a while because you felt she was "testing" you. Then the three of us attended your Seminar at the Sheraton which was just great.
After the seminar you had a book signing at Barnes and Noble. I couldn't make it but my cousin, Richard, was able to. He sat way in the back and you did some mini readings. You asked if anyone in the back row knew Anna, no one raised their hand. Well finally he did since his mom's name is Anna, she passed about 15 years ago. You mentioned to him that someone very close to him would pass from heart problems within 2 months. He told me this, although he was hesitant to tell me, because at that time my mom was in and out of the hospital. He thought perhaps you were talking about her.
I just received an e-mail from him. His uncle who he was very close to him passed away today from heart failure. He mentioned in the e-mail about what you had told him. I had totally forgot what you told him, maybe he did too, but he sure remembered it today when told the news of his uncle's passing.
I just wanted to let you know this, Gail. I do plan on going for another reading. I know you must be booked for quite some time.
I hope all is well with you.

Dianne, East Brunswick, NJ
Hi Gail
It was so nice to hear from you. I know that you won't be moving to North Carolina until after your seminar but just want to wish you the best. You'll be missed, believe me. I know that the people in North Carolina will be very lucky to have you there to share your gift.
I spoke to my cousin today and he told me that he would like to have a reading with you. I told him that I know that you are booked (my friend Chris told me that yesterday) and I said that possibly it would be easier to get an appointment with you on a weekday instead of the weekend. He said he would like if I went with him and I said sure. I would love another reading.
Take care.

Dianne, NJ
You have a wonderful gift, Gail, and I hope you know you much you help so many people. I have to check with my friend, Chris, today to make sure she's available for your seminar next month so I can order the tickets. The book and cd should be coming soon - can't wait.
Gail, I know you are SO busy, but if ever you have private meditation groups to contact Spirit Guides please let me know. I want so much to do that. I will definitely try the Reikki tape when I get it though.
Have a great day today, seems a little warmer out.

Donna Thomas, Little Egg Harbor, N.J.
Dear Gail,
I wish you well in your travels. I definately will miss you. I never got to your meetings but when I met you in the store of "Angels and Hope" in Red Bank I felt I met an angel with a message for me. And you gave me one from a father I never new. I thank you for that. I won't forget you. That week I was going to have surgery and you told me when I saw a yellow flower my father was there with me. As I went into the hospital there were yellow flowers at the desk. And when I was in recovery a gentleman came in to see his wife and passed me carrying yellow roses. Then when I got home the doctor I work for sent a plant that had yellow roses in the middle. I knew that my father was with me every step of the way. I thank you and may God Bless You.
I want to ask you if you would keep my daughter Audra in your prayers. She has tried for years to have a baby and has not been able to carry the baby but a few weeks. And last year she had a baby boy which she held on to for 5 months. It was the sadest day of my life. How to comfort my own daughter at a time like this. She actually held him and saw there was nothing wrong - so why. And I could not answer her and the doctors had no answer. Please keep her in your prayers. I thank you again.
Will you ever write to the friends of New Jersey that you have made? If so please keep in touch.
May all your deams come true and the best is wished for you.

Dawn Marino-Smith Freehold, NJ
Oh my God, I feel like I want to cry. I can't believe you are leaving. I know you need to do this and ultimately I'm sure you'll be happier, but just know that we will miss you. Even though we don't get to see each other often, it was comforting to know that you were only a few miles away. Please please please promise me that you will always stay in touch, and we will do the same. Let us know when and if you are ever in Nj visiting. Also, give me your new address so I can send you pictures and cards etc.. Gail, I'm happy for you, but can't help but feel sad at the same time.
I'm going to miss you
Hugs and kisses

Donna De Vinko, New Jersey
Gail...I wish you God Speed in your journey. You touched me the day I met you. You spoke of helping the children and tried to arrange a get-together for them. I immediately thought of an interactive web page where you and your sense of certain gifted children could correspond back and forth with you about questions they may have. I have found that kids are more open when they can type their feelings and words into the computer. I have been meaning to e-mail you this idea for some time and here you gave me the opportunity.
Please keep in touch.

Rosemary New York
Dear Gail,
I am sorry to see you go, but I am truly happy for you. You deserve the best. You have been a wonderful inspiration to everyone. I wish you the best always.

Pat, Toms River, NJ
hi gail,
i had no idea of your plans to move! what an adventure for you! i wish it was meee too! i wish you all the best and i hope to keep in touch with you. i will always remember the day you came here in that dreadful snowstorm. im not sure of your plans in north carolina but id be interested in what your plans are. you always have something going on! you amaze me! i will pray for a smoothe move for you. i really wish you the best gail. i have enjoyed our talks and the few visits we have had!

Sonya, NJ
Gail,
I wish you all the luck in your new location. May life bring all the happiness you deserve.
Best of luck

Annie, Long Island, NY
It has certainly been my pleasure to know you. I must say I am going to miss you. I wish you everything wonderful, healthy and happy as you begin your new journey.
Please stay in touch.

Sue Calmon, Union Beach, NJ
Gail
I want to thank you for your email and want to wish you all the best in your move and new journey. I also want to let you know I appreciated the amazing reading you gave me a few months ago. About 90% of what you told me really struck home and amazed me. I honestly
didn't know what to expect and was very pleased at the outcome. I've recommended you to alot of people but unfortunately they were unable to get a reading with you as they work days. I was disappointed I was unable to have an appointment for the past life regression but I was unable to afford it after just returning to work after three months. If it is meant to be something else will come up in the future. I will try to make your Yard Sale, as my husband is a yard sale fanatic. He has been looking for a snow blower. Would you happen to have one? Once again, best of luck to you.

Donna Catrone, New Jersey
I am so sorry to see you go! You will never know how you helped me in the many difficult times in my life. I haven't seen you in such a long time. Life becomes quite hectic at times and there is never enough time to do the things i want to do. I will miss your smile but I wish you well.
Is there anyone else you can recommend who I can get in touch with who can is taking your place, so to speak?

Catherine NEW JERSEY
Hello Gail,
If this move will make you happy then I am all for it. However, I will miss you very much. You probably don't know how someone like me who only met you twice would miss you . Well, I will. I could tell what kind of a woman you are and I wish we could have been friends.
I know you are moving , Gail however are you doing anymore private readings? If not.... my loss . If you have time would you let me know. I would like one more reading with you.
thank you so much for you wonderful letter letting all of us know what you will be doing in the future. North Carolina is a lucky state to have you moving there.
Take care , Gail and good luck to you always and God Bless you forever.

CATHY  New Jersey
I WISH YOU MUCH LUCK AND HAPPINESS AS YOU BEGIN A NEW CHAPTER IN YOUR LIFE. GOD BLESS YOU TOO! YOU WILL BE MISSED HERE! XOXO

Sherry Michaels (Merrill),  New Jersey
Hi  Gail
By the way.....we just found my fathers wedding ring...exactyl where he told you it would be..in a bag from the hospital..the first time we looked it was stuck under a flap....we would have never been so diligent had you not told me!! thanks so much..

well gotta go having severe dental pain..
hope all is well with you!!
thanks again

Nicky,  New Jersey
Dear Gail
I hope you have a great evening and wish you every success with the move to North Carolina .
I may well drop you a line during my future travels should I visit the State.
You are a very special person, take care and Thank You

Mike, New York
Gail,
Thank you, for bringing happiness and closure to so many people who needed it.
Good luck on your journey.

Marie,  New Jersey
Hi Gail,
Like so many other people, I'm sorry to hear you are leaving NJ. You meant so much to so many of us here.
Recently, I just read your book. It is an amazing story. Thanks for mentioning the Jersey City school teachers! Keep us in your prayers as another school year is about to begin!
If you ever get any messages from your buddy, my dad Walter, please forward them to me.Even though I can feel his presence at so many times, it's nice to hear an actual message.
Mom and I are going to Arizona this Sunday. As predicted, yes my husband and I did buy a condo out there. I'm a little nervous regarding the airplane situations as of late, and the upcoming anniversary of Sept. 11th. Last night I had a horrific dream of a bad situation on our flight. Have you felt anything bad coming up? I'm hoping it's just nerves on my part.
Good luck in your new venture. Every closed door means a new door will be opening up. God Bless you, and keep praying for us NJ souls!

Marie =)  NJ
Hi Gail,
My name is Marie Frisone. I just had an appointment with you yesterday morning. I wanted to say Thank You again. It was a very good experience. I also noticed that when I played the Tape back that I noticed a heart beat sound very distinctly throughout parts of the tape. Im pretty sure I wasn't hearing things but then again you never know. I just figured I would run it by you and see if that made any sense to you at all? or if this was at all common? Just was curious.
Thanks Again

Lois Freehold, NJ
Hi Gail,
I cannot thank you enough for inviting me into your lovely home for a reading. Especially when you were so busy trying to pack etc. for your upcoming move. It also got me a copy of your book and I must tell you I am so amazed at your life story. You appeared to me to be a gracious lady caring for people and there needs. I was so saddened to read of your childhood existence. But you are truly loved by many that you have helped heal the loss of a loved one. I was so glad to know my mother cared how I felt even today. Thank you for bringing my husband to me again. It was so rewarding for me. I look forward to seeing you again when you are settled in your new home.

Carol Hartwell, Colts Neck, NJ
Hi Gail-
When I returned to work a little stuff bear that George Andersen gave to me from Alicia was laying on my desk.  It sits above on a shelf and has never fallen off.  What a sign!!!  I couldn't believe my eyes!
Also contacted Jim and he went for his walk today and lost his balance and called his doctor.  I told him what Alicia said and he was interested and said that it is in the works.  There are bangs all around me right now.
Also Luz informed me at lunch Luis was a good friend of hers who drowned in the ocean at 19.  I was hoping he would come through for her and it looks like he did, but at the time Luz couldn't think clearly.  She is so happy and told me about her brother and all the relatives that came through in Spanish.  She is overwhelmed!  Thanks for a great and wonderful time!  Your the best!

Heather Cendalli, Brooklyn, NY
Hello Gail
It's me again :) I hope I'm not bothering you. I just wanted to tell you that the numbers my father had given me, came out continuously on the roulette table (and I hope they always will hehe). You had also told me to watch out for my right leg. Well while we were in Vegas I got a really bad Charlie horse, I mean one like I have never gotten before, and because of that my leg was sore for about 3 days, I couldn't really walk on it.
And as you had said, look for a blue toothbrush, I don't know if this is what I am supposed to be looking for, but I noticed that Ed's travel toothbrush is a blue handle one. It works for me! So again, much thanks & love, I just like to keep validating everything, it's so amazing.
Also, Sharon (my soon to be sister in law) came to see you. She had nothing but great things to say, and she was absolutely amazed. She was still teary eyed from this morning. I didn't get to speak to Amy yet, but I'm sure it was great. Thanks for making us all believers! :) Take Care! Speak to you soon!

kimberly intrabartolo
hi Gail-
  I heard you were sick, I hope u are feeling better....   :)
And...  you were right, a month and a half exactly...  i just took 2 tests yesterday and i'm pregnant!!  i have to go the doctor's for the official test, but we r very excited!!!  hope you have a great holiday!  take care of yourself!!

Nancy Cohen Freehold, NJ
Gail, I wanted to write and say thank you for the wonderful reading I had with you last week. You told me that by the end of January there would be an announcement in our family about a new baby.......didn't take that long.......last night my son called to tell me that they are expecting their first child....i couldn't have gotten a better holiday present.......wishing you a peaceful and joyous holiday, and a healthy and happy new year.....

Shannon Johnston, Hewitt, NJ
Dear Gail,
It's Shannon!! I got to tell you something. I told my momI was getting a black onix ring. She laughed and said she has something for m when we got home. She pulled ou the ring and now i have it!!! I will e-mail ou if i got any other news.


Alma West Milford, NJ
Hi Gail,I want you to know I decided to come see you the night before. When Louise gave me the gift for xmas, I had no feeling about coming to see you.I made peace with my past.So everything that was said at the reading was almost unreal. I had waited so long to hear those words.When I got home that day I was having lunch. The tv was on, I was thinking about what Frank had to say that day and the tv went off.I feel that was my sign that he was there.
So this had a nice ending.
Thank you and keep well